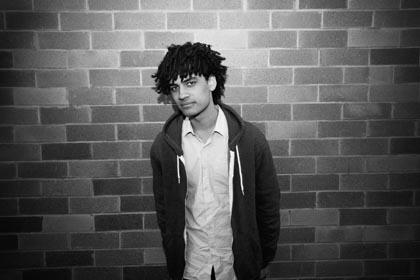 By now, everybody should have definitely heard of producer and DJ champion, and avid video game enthusiast Cassian. By all accounts, this Sydney boy is an absolute boss at the moment. He's been remixing seemingly non-stop since the middle of last year and also was lucky enough to release his first ep on Christmas day with the internationally acclaimed mega hit 'Friday Night' in amongst two other instant classics.
Now I first heard the name Cassian while purchasing the 'Destination Remixes' album off of beatport last year. While the Damn Arms original track was amazing, the Der Die Das and Bang Gang remixes both intriguing in their own styles, it was without a doubt the Cassian tune that was the pick of the bunch. However, after previously never having heard of the producer of this boss of a remix, I had a bit of a hunt around Myspace only to realise that he was a producer from Melbourne.
This was a belief I held for around 4 days, until I realised that Cassian was merely a fresh start from his previous DJ-ing moniker of CSK-OK. And he had lived in Melbourne for a few years, but definitely hailed from Syders. From memory, this was the same kid who remixed the likes of zZz and also did an acoustic cover of Bag Raiders song Fun punch.
By the way Fun Punch has to be in the song of the decade conversations.
Anyway.... so CSK-OK a.k.a Cassian first cut his teeth on scene in Candy's Apartment and the Roxbury in Parramatta. As far as his musical style goes, his sound can be described as electro-funk, and he's often able to lead his tunes with his insane guitar skills.
A quick snap shot of his current catalogue of remixes and you will notice he's more or less had his hands on all of the biggest songs of the last 6 months, however by no means is he's prepared to sit back on his epic tour schedule just yet. Within the next month he's also due to release a remix of Swick's headlining song 'Grow Up' (which is currently around 2 months behind it's release date??) and also Flight Facilities future classic, 'Crave You'. Wowowowowowowow.
Enough words. Here's some tunes.
High Life (Cassian's Bootleg) - Daft Punk
An absolute dance floor bomb. Word on the street is he made this in around 6 hours. Boss? Probably the best Daft Punk remix for a good while.
Tokyo Getaway (Cassian Remix) - Polygon Palace
Lovely little remix of an indie tune from new comers Polygon Palace. Purple Sneakers music almost :-/
Destination (Cassian Remix) - Damn Arms
Yummmy little jumpy number. Check out the guitar solo at the end. Face Melter.
Final Round - Cassian
Original tune. Samples street fighter. Gorgeous little groove that appeared in my mixtape just below.
Fuck Song - Cassian
Slow jam. Not bad at all.
Make you mine (Cassian Remix) - Miami Horror
Solid Remix of one of the top tunes from the beginning of last year. Much like some of his other works, he seems to add a lot of character and emotion to the originals which is a pretty rare trait for electronic music. What?
Shooting Stars (Cassian Remix) - Shooting Stars
Get on with it!
I've decided not to post Friday Night just yet because you should really go and buy it from itunes. Tip your waitress!
Peace.